We all are in a different "learning and development" environment with exciting challenges. We need to find fresh ways of retaining the workplace learning to navigate the current change.
Firms need to discover new approaches to make Learning and Development relevant but also engaging.
The new world of work has changed our stance on everything we do in remaining relevant today. This present situation has taken out the instinct to reimagine alternatives through new initiatives using creativity and the progressive impact it creates. It is a remarkable proposition as it challenges us to redefine, repurpose, relocate and adjust to a new normal.
The crisis has quickly adjusted every organization to virtual partnerships. This has helped organizations to continue business processes effortlessly and accelerate their performance.
Here are some of the ways learning and development are shaping the new normal
Ways learning and development shaping the New Normal
Organizations will have to adapt their approach to learning and development in order to protect their status as a core aspect of culture.
1.    More upskilling and reskilling
In developing times, every employee wants to be suitable for an organization. Therefore, the focus of every business should be to keep a workforce that is driven through channelizing Learning solution initiatives. Employees need to be aware that skills may stagnate and get less appropriate over time, eventually becoming outdated.
No organization wants to wait for extensive and lose internal talent or probably opt for a new appointment. Though this task at hand seems to be a predicted one, organizations need to perform the flavour of skilling, reskilling and upskilling. This is the only probable answer to Learning and Development.
Specialized skills such as technical know-how, soft and behavioural skills, domain and process-related skills must be a part of the continuous learning and development efforts.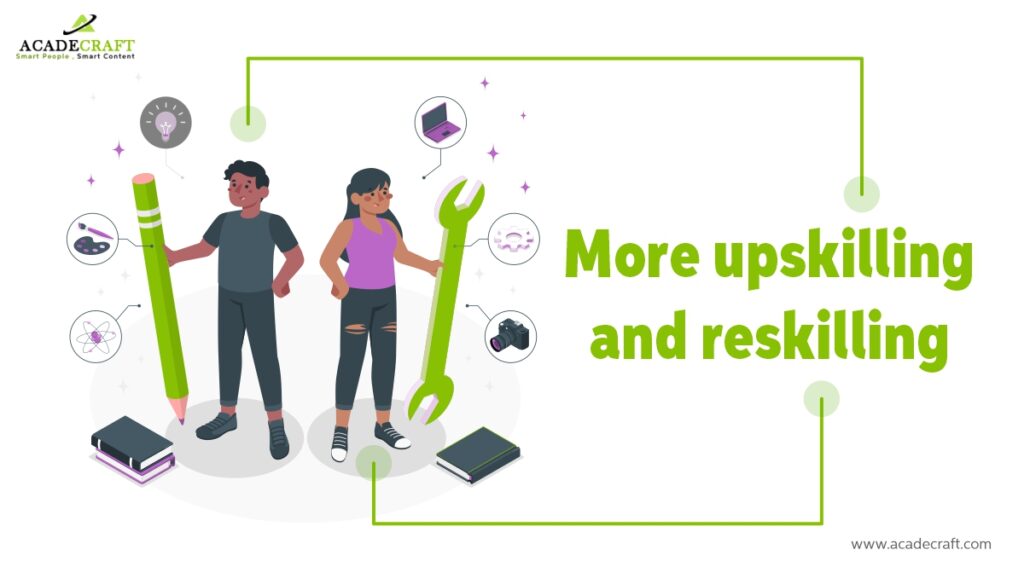 A study found that as much as 14% of the global workforce would have to switch careers or obtain new skills by 2030 because of automation and artificial intelligence.
Also, another report showed that 87% of managers said they were either currently facing skill gaps in the workforce or anticipated them within a few years.
2.    Training
Simplifying training programs for people across levels and skills within the firm can confirm an organization's preparation for the future. By now, it is evident that continuous learning is here to stay. Keeping this in mind, organizations need to hold digitization and create a constant digital learning culture to endure in the new normal.
3.    Virtual learning may become the norm
When it comes to the altering business world, one of the most common by-products will undoubtedly be more dependence on technology and virtual learning platforms.
This is usually held to be the case in areas such as talent acquisition and internal communication, and L&D is unlikely to differ from this trend.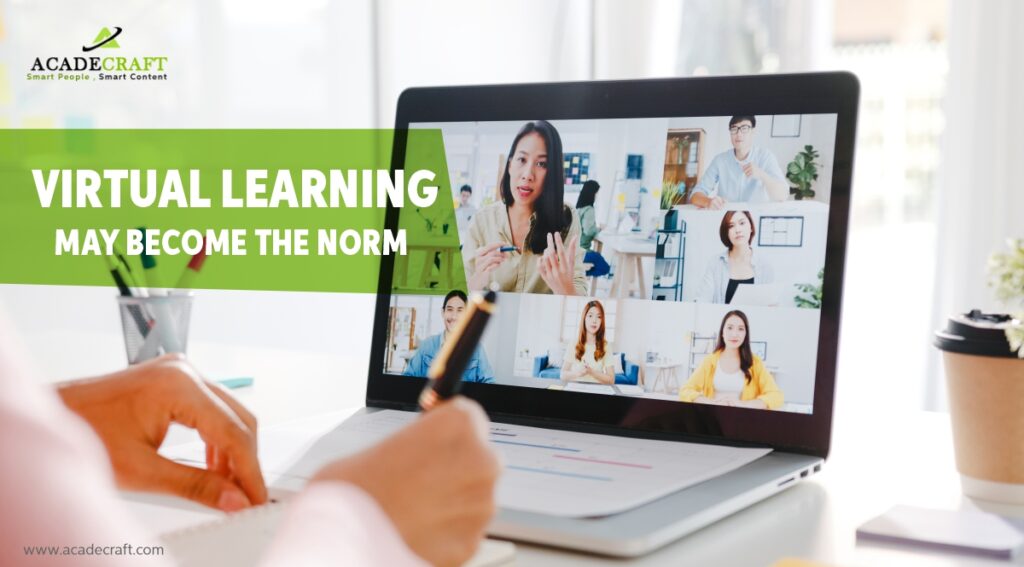 In fact, there is the possibility to suggest that L&D may be at the forefront, with evidence suggesting that numerous organizations were planning to devote themselves to learning technologies before the start of the virus. Studies reflect, showing that 29% of organizations had scheduled to increase their investment in eLearning during the 2019-20 financial year.
With remote working has become part of the new normal, and many organizations not planning to return to an office space until 2022 (some of the companies are bringing the workforce back to the office), this investment in eLearning can only be set to increase across the board.
4.    Social Learning
One of the critical L&D trends that have emerged as an outcome of coronavirus is more importance of social learning methods.
Social learning leaves the outdated framework of learning models and is created on new behaviours being learned by observing or imitating others.
In the content of remote working, this ties in profoundly with engagement. Organizations are becoming mindful of declining engagement levels among workforces, and thus, traditional learning methods are beginning to be regarded as futile in the circumstances.
As a result, social learning is becoming a much superior part of the agenda and is thought to be a practical approach.
A study found that around 82% of businesses that use social learning tools want to increase their use of them in the future.
Based on this, we can expect to see many organizations adopting such methods throughout their distant working periods, observing effectiveness and progress, and modifying their approach to L&D as the return to work commences.
Wrapping up
Now, more than ever, professionals need to be agile and well-informed about global trends. The workforce needs to continue learning. If you stop learning, you won't be able to make your organization learn.
Some of the ways we have mentioned above are helping organizations involved in learning and development in the new normal. We, Acadecraft is one such company offering effective custom learning and development services in the new normal.